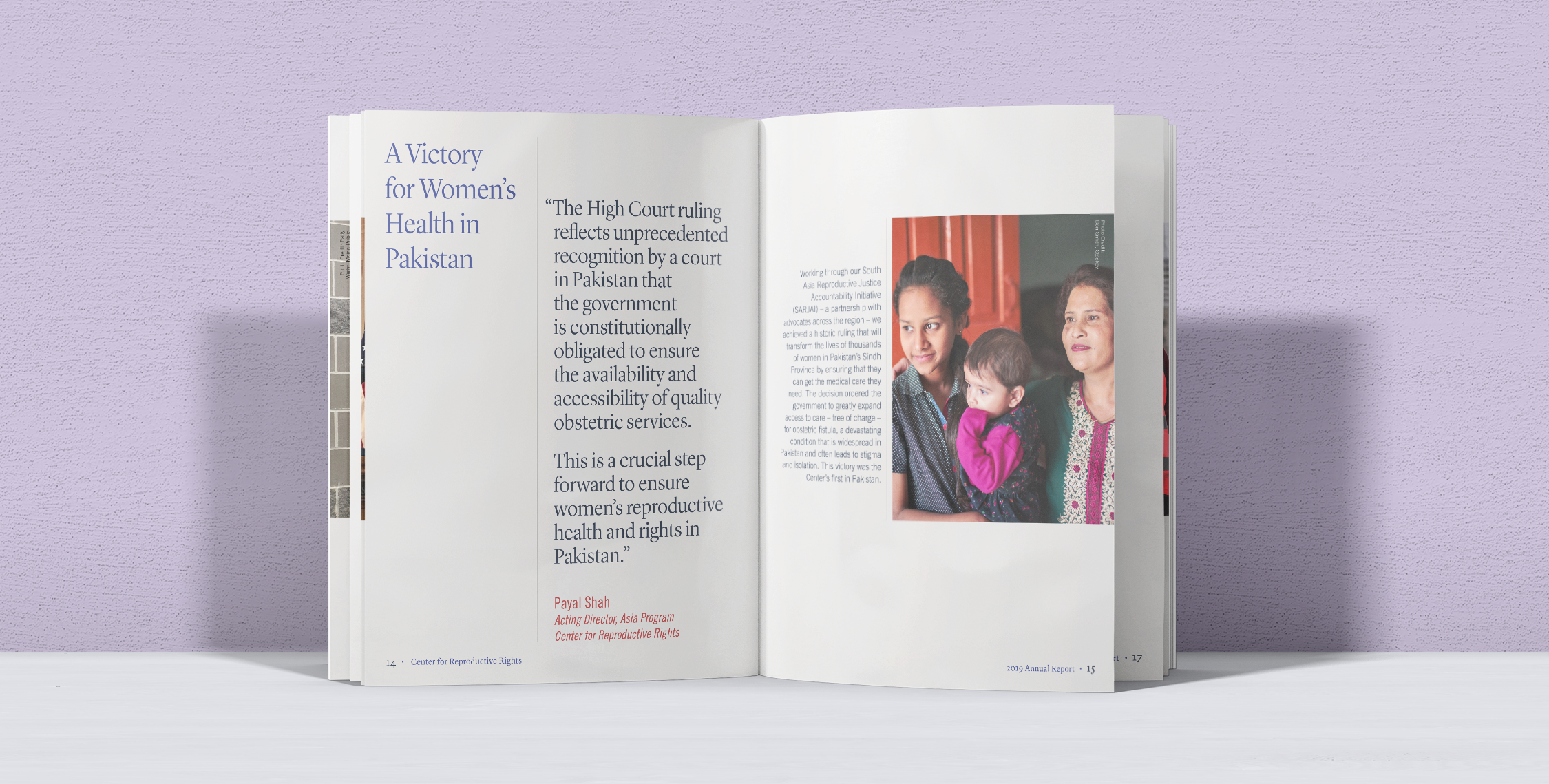 Editorial Design & Art Direction
Center for Reproductive Rights Annual Report, 2019
As 2019 drew to a close and the Center for Reproductive Rights began moving towards a new brand scheduled for late winter 2020, I worked with our fundraising and editorial staff to develop the Center's annual report shared with our donors and the general public at the end of each year. This was the first annual report at the Center where I was the lead on art direction, layout design, and print production with our long trusted printer, Rosemont Press. I met regularly with C-suite and key stakeholders throughout the process to present concepts and updated materials.
The editorial design was based in large part on the layouts developed for the forthcoming new brand of the Center, designed and developed by the impressive Isometric Studio. Initial concepts included more subtle half-measures approaching the new brand as well as the chosen layout here that falls very close in step to new standards of the brand. This annual report therefore sets the stage for the new brand launch at late winter events, giving our donors a sneak preview of sorts.
The annual report was created on a tight schedule given staffing changes delaying the launch of the project. The final piece was printed ahead of schedule with a paired envelope for distribution to key donors and arrived in hand to them in mid-December. The designs for the annual report contributed to end of year efforts throughout the organization and ongoing work during the lead up to the new brand launch.
This project required input from every corner of the organization and was project managed by the unflappable Elizabeth Lucy. Initial concepts were drafted with the added eyes of Gabriel Lee.
Made with Adobe InDesign CC and Adobe Photoshop CC