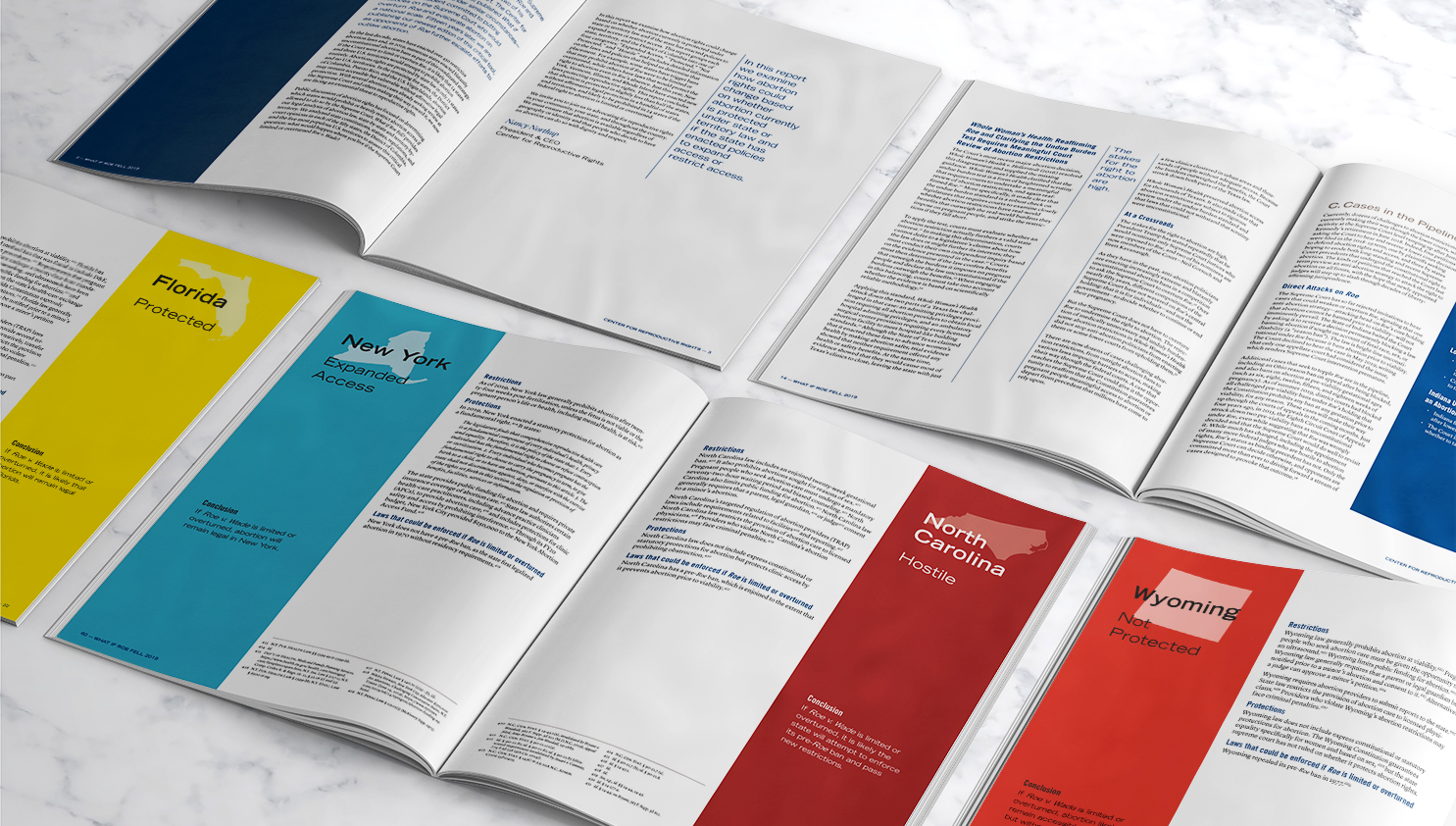 Editorial Design & Art Direction
Center for Reproductive Rights What If Roe Fell Publication, 2019
For more than a decade, the Center for Reproductive Rights has tracked restrictions on and protections for access to reproductive health care throughout the United States and US territories to assess the threat to those rights affirmed in the landmark 1973 Supreme Court case, Roe vs Wade. This data is kept up to date online but before this latest redesign, it had not been seriously revisited since 2016. Given the onslaught of new laws cropping up in 2019, it was essential to not only update the online resource to make the information more readily accessible everywhere but also to update the print edition of this information that had not been approached since way back in 2007.
For this project, the print design was inspired by bold, clean editorial trends in design as well as the striking color and visual direction taken in the design team's work on the World Abortion Map online and print resources that were relaunched earlier in the year. Bridging the designs of the Center's work on Roe and global abortion laws helps underscore that the Center is a global organization with an expertise within and outside the US more fluidly, to both internal and external audiences.
Working in concert with the teams researching and distributing the printed editions of this report, we deliberated on stately versus determined concepts and landed on determined. The print was launched at our annual event for advocates, state and federal legislators for whom this is an essential resource to have at the ready for high level strategy building and increased credibility in meetings on these topics. It was a tight turnaround project with lots of moving parts and essential details, but I was able to get it to print ahead of schedule and the team got rave reviews during the event.
Created under the creative direction of the unconquerable Carveth Martin. Cover options developed with the expert assistance of Gabriel Lee.
Made with Adobe InDesign CC, Adobe Illustrator CC, and Adobe Photoshop CC