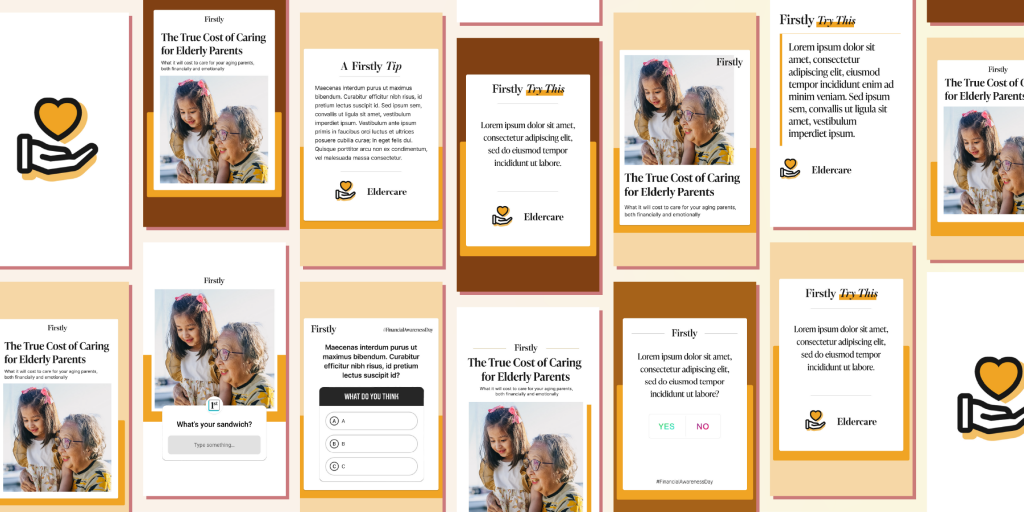 Branding & Social Design
Firstly Instagram Story Templates, 2021
Leading up to the launch of Firstly, the first family focused budgeting app, the marketing team knew that an easy to use, branded set of social templates would help keep design workloads lighter and increase post numbers. While Instagram has a lot of internal customization and design tools, it was important that as a newly launching financial brand, Firstly could push brand awareness and reliability with clearly branded Instagram stories.
Firstly had a robust set of colors in its brand arsenal that needed wrangling and a broad array of content categories to market.
Step one on this project was defining the colors for each of the core content areas, internally referred to as pillars. Check out the details on that effort elsewhere on my site, but to sum it up: working with internal stakeholders, I got clear color sets assigned to the key pillars and used these to solidify eight sub-brands for our marketing strategy.
With these sub-brands determined, I created a massive and easy to edit Photoshop template for Instagram stories and IGTV. I ran through some basics of assuring easy image swaps and increased the social team's ability for independent and flexible posts.
Made with Adobe Photoshop CC and Adobe Illustrator CC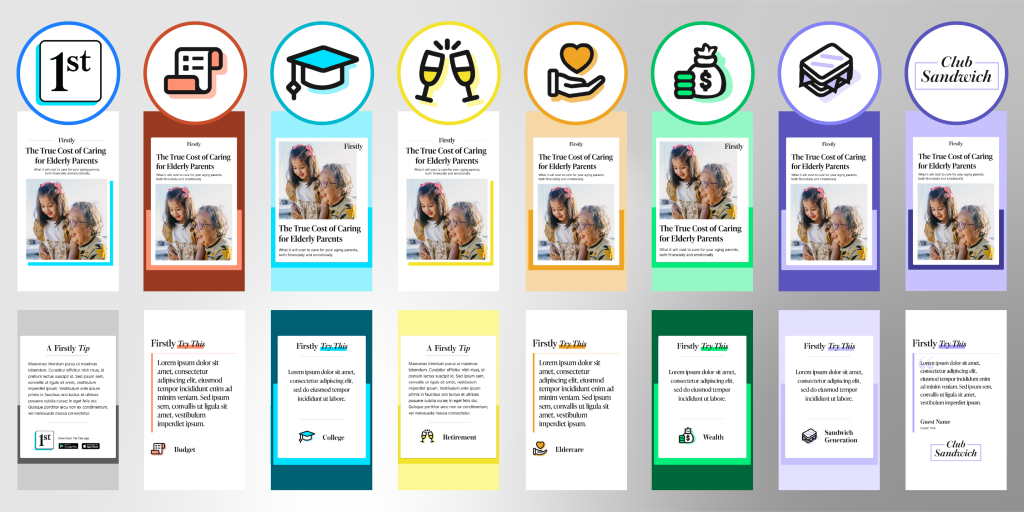 Each set had three types of content ready to be ported in:
1. A Tip from Firstly
I tried pitched different copy options for this, testing out how playful the team wanted to get and what level of consistency was required. The result was a couple of text options to test out whether one got more traction than another and 4 styles to vary the use of color, highlights, and negative space.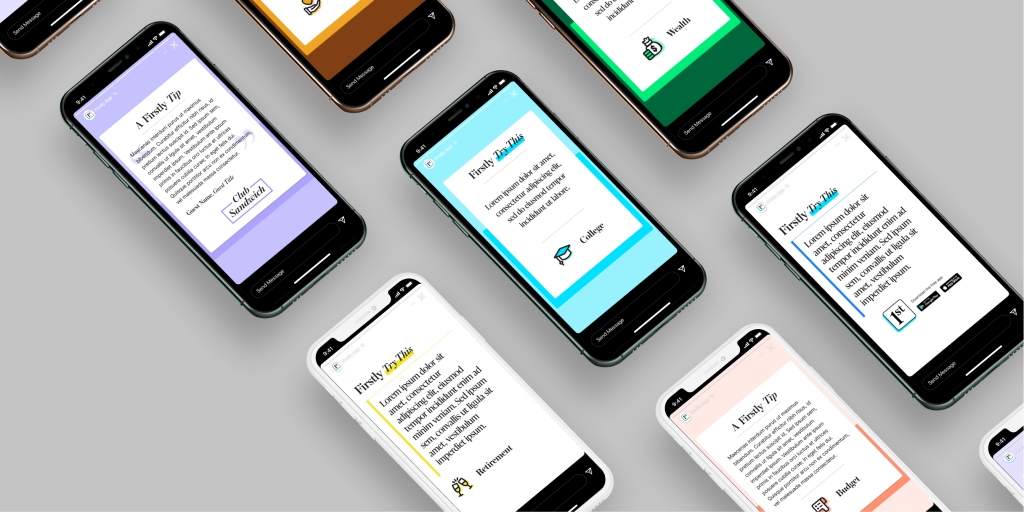 2. Highlight a recent article or video
The design allows for the article or video title and a brief subtitle or caption to add context to a cleanly squared off image.
This was stage one; we aimed to work with the media team to expand this template into After Effects as more video content was in development. That would have required further training in After Effects for a number of folks on the team and so was placed on a long term wishlist while they had these static materials to tide them over.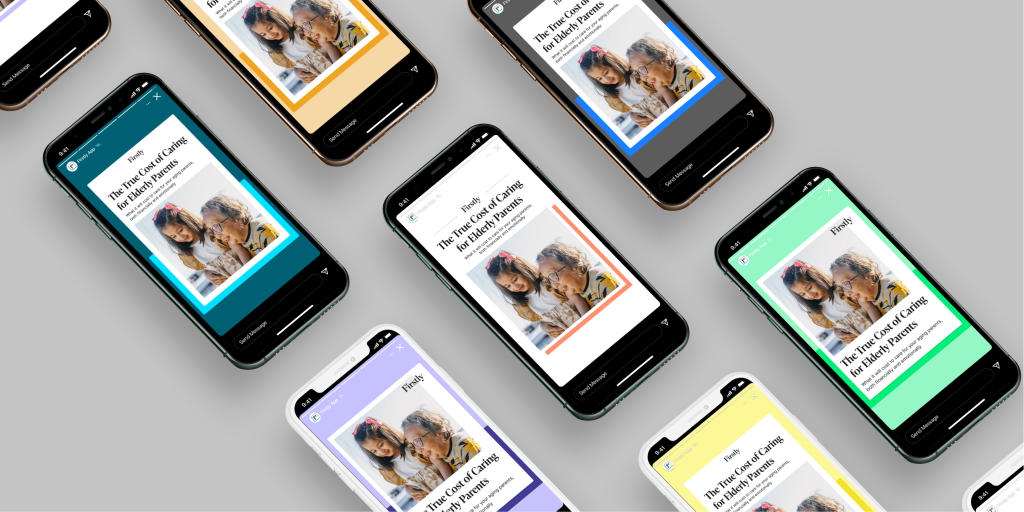 3. Boost brand with Instagram native interactivity
The interactive elements native to Instagram are what makes it such a more engaging platform, particularly for the Gen X and older Millennial audience for Firstly. It was important to have a clear, branded base to use those fun elements.
Each of the three style templates allows for a different use of space to keep the options open and fresh for the social team.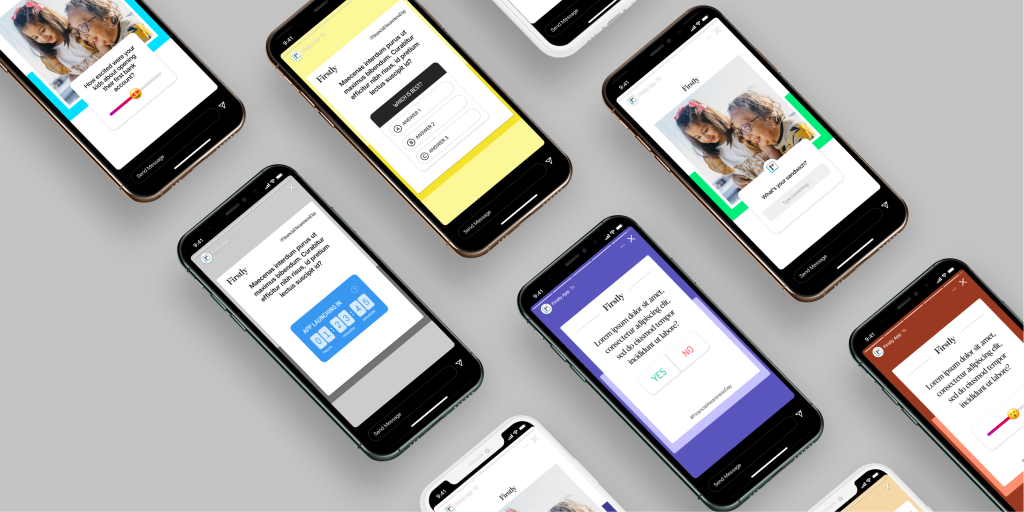 And the rest
Each pillar would be a highlight and would need a template to be IGTV ready as well. Each array below has one of everything for each pillar, including the highlight card with the symbol to represent that pillar above the grid on Firstly's profile.